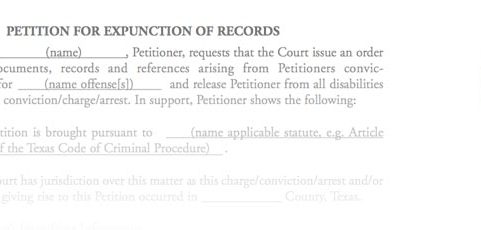 Summary
There are a few ways you can start your Texas expungement process. But first, you must look at the limitations of the law before proceeding.
You can have your record expunged if your arrest did not result in a charge or a conviction when you went to court. If you were acquitted for a charge, you are probably also not eligible for an expunction, unless the crime was acquitted by a trial court by the Criminal Court of Appeals. If you were charged with a crime but was dismissed by a judge or judge, you may be eligible.
If you are a victim of identity theft, and the person who committed the theft was arrested, charged, or convicted of the crime while using your identity, you can petition to have a record expunction.
If your charge was pardoned by the Governor of Texas or the United States president, you can apply for an expunction.
Some juvenile misdemeanor offenses may be eligible, but there are limitations for juveniles who received deferred adjudication. See below for more details.
You must also meet the following criteria to be eligible:
Not arrested for multiple offenses
No felony convictions in five years
Not arrested for a sex-crime
You must not be under deferred adjudication
What is a deferred adjudication?
A deferred adjudication is a type of probation that is usually given to those with no prior criminal background. Many first time offenders are given a deferred adjudication depending on the age of the offender and the type of crime.
What if I have a deferred adjudication as a juvenile?
Texas Code 411.081 states that any individual who has successfully completed their community service can contact their probation officer and attempt an order of nondisclosure. You cannot proceed with a record expunction if you received a deferred adjudication. More information can be found at http://www.statutes.legis.state.tx.us/Docs/FA/htm/FA.58.htm
What other options do I have?
If you do not meet the expungement basics, you may still be able to obtain an Order of Non-disclosure. It is similar to an expungement, except the record is only viewable to certain parties such as government agencies and the courts. It is a good alternative if you are attempting to have your record cleared for a job.
Process
If you meet all of the above requirements, you can take these steps to proceed with your expunction.
What you need:
Petition for Expunction Form (there are different forms for different counties)
County Expunction Forms:
What you need to do:
First fill out the basic information on the petition form to the best of your knowledge. It is best to have the application reviewed from a legal assistance organization to make sure all the information is correct and accurate.
Next file your petition to the clerk's office at your local county. Note that you must file in the same county of which you were arrested. Always make copies of the forms you've filed for later referencing.
You will then need to prepare for the court hearing, as the judge will review your petition. This hearing is required, and you will need to attend the meeting (representing yourself or have a lawyer represent you) to have your expunction petition granted.
If you're having difficulty:
Obtain legal assistance from a professional legal service organization. Our recommendation is Record Gone. Be wary and avoid of non-licensed individuals soliciting legal service, they are only form submitters and cannot represent you in court.
If your expunction has been granted:
You can pay for a criminal background check on yourself after 2-3 months to check if the expunction is successful. Also performing a Google search on your legal name can bring up prior background information that still prevents you from obtaining jobs.
For record clearing information on Utah based records, you can find more information at Utah-Expungement.com's How To Guide for record expungement.